We're dedicated to promoting good chi* through conscious living and maintenance of a genuine life.
*Chi (chee) is the vital life force — an energy that flows through the body. Chi is present in everyone and everything in different amounts and strengths.
Chi For Yourself welcomes Jennifer Louden..Jennifer is a personal growth pioneer who helped launch the self-care movement. She's the author of The Life Organizer and other books on well-being and whole living. Listen to the interview here by clicking on the video player..
 Visit Jennifer Louden's

website

..

Join us for the interview with Kristen Moeller, author of What Are You Waiting For: Learn How to Rise to the Occasion of Your Life. Kristen's inspiring story is one of personal challenges and learning to live beyond loss. You can hear the show by clicking on the YouTube screen… 


Visit Kristen Moeller's

website..


Chetan Parkyn is a Human Design master who tells us about a system to bring out the person you were meant to be!
Click on the BlogTalkRadio logo to hear the show:

 Visit Chetan Parkyn's website

It seems that everyone, from athletes to celebrities to high-powered executives and politicians to stay-at-home moms and college students, is practicing yoga. Our Chi For Yourself guest has put together an encyclopedia of different yoga styles as a reference for those new to yoga and experienced yogis and teachers alike. But Meagan McCrary's approach digs deeper than the physical descriptions of the practices to include everything from a style's philosophical foundation and teaching methodology to what-to-expect and health benefits. Meagan is a certified yoga instructor and freelance writer. Her teaching path has been greatly influenced by Anusara yoga founder John Friend as well as Noah Mazé, Elena Brower, and Martin and Jordan Kirk. Her yoga, wellness, and lifestyle writings are widely featured in print and online in publications including Elephant Journal, GaiamLife, and Glo. Meagan McCrary is the author of Pick Your Yoga Practice: Exploring and Understanding Different Types of Yoga.
Hear the Meagan McCrary interview here..just click on the YouTube screen:

Listen to the Allen Klein interview here:
We often think of celebrations as centering around special occasions, like Birthdays, Christmas, or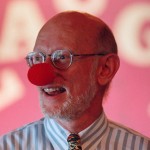 other holidays. But our Chi For Yourself guest says there is no need to wait for those times. In this interview Allen Klein reminds us that everyday is a cause for celebration. The very fact that you are alive, the wondrous world around you, and the special people in your life are all reasons to rejoice. Allen Klein is the author of Always Look on The Bright Side: Living Life to The Fullest
Visit Allen Klein's website

Hear Dr. Bernie Siegel on Chi For Yourself
Chi For Yourself welcomes back renowned medical doctor and spiritual teacher Dr. Bernie Siegel to talk about how you can tap your body's potential to heal. After studying the use of crayon drawings by patients facing life-threatening disease, Bernie founded Exceptional Cancer Patients to facilitate self-induced healings, which were often called miraculous. Bernie realized our bodies actually want to heal, and we can aid this innate propensity through what are currently seen as unconventional practices, including drawing, visualization, dreams, love, and laughter. Dr. Bernie Siegel is the author of The Art of Healing: Uncovering Your Inner Wisdom and Potential for Self-Healing.
Visit Dr. Bernie Siegel's website..

Annemiek Douw is this week's Chi For Yourself guest..
You're on a spiritual journey. You know that the answers to life's big questions lie somewhere within the depths of your soul. But how can you connect with your soul and tap into its divine wisdom? If only you had some sort of inner guidance system—an internal 'GPS'—to help you navigate back to the right path. Our Chi For Yourself guest Annemiek Douw says you can tap into and master that inner GPS. Annemiek Douw is the author of 21 Layers of the Soul: Healing the Karmic Ties with Friends, Lovers, Family and Enemies.
Visit Annemiek Douw's

website

Hear the Chi For Yourself interview with guest Kuwana Haulsey

 Start the YouTube player to listen..
Kuwana Haulsey reveals her personal journey with motherhood and combines these experiences with lessons meant to guide all mothers toward the path of acceptance, happiness, and appreciation for their children—and even themselves. Kuwana is the author of Everything I Needed to Know I Learned From my Six-Month-Old: Awakening to Unconditional Self-Love in Motherhood.
Visit Kuwana Haulsey's Facebook page

Hear the Chi For Yourself interview with Echo Bodine..

Visit Echo Bodine's

website..

Erica Tucci had a full life as a corporate manager of a Fortune 500 company, a healing arts business owner and an author of three books. It all came to a screeching halt in June 2011 when she had a stroke that left her completely paralyzed on her right side. Erica Tucci is the author of Radiant Survivor: How to Shine and Thrive through Recovery from Stroke, Cancer, Abuse, Addiction and Other Life-Altering Experiences.


Click on the BlogTalkRadio banner to hear the show:

Visit Erica Tucci's

website

and

blog
To watch Chi For Yourself on "Chee-vee" click on this badge:

  or
Listen to more shows on BlogTalkRadio by clicking on this BTR banner:


Need to reach us?

Send a Speakpipe message. Just click on the 'send voicemail' box on the left side of this page and send a voicemail right from your browser!

In GenuLines this week- Make your work work for you..

Love Magnet
Katherine Woodward Thomas on Drawing True Love Our Way
Debra Melani
After years of experiencing love going sour, Katherine Woodward Thomas set a goal: She would marry her soul mate within a year. Her quest inspired a surprising awakening that spurred her to look deep inside for the key that would unblock love. Thomas realized the transformation that enabled her success involved clear steps that could help anyone. Today, the licensed psychotherapist and relationship expert has guided thousands toward successful relationships via her national bestseller, Calling in "The One": 7 Weeks to Attract the Love of Your Life, and subsequent books and seminars.
What catalyzed your Calling in "The One" professional journey?
I was 41, a card-carrying member of one of America's largest-growing groups—the never-marrieds. I had bought into the cultural belief that a woman my age had little chance of finding a great husband. I felt anxious and resigned, trying to come to terms with it, but sad inside.
Fortunately, at the time, I was part of a small group supportive of each other's intentions. So I set the outrageous intention that I would be engaged by my next birthday. I also recognized my longstanding pattern of attracting unavailable men who were engaged, married or alcoholics. A woman in the group said, "Katherine, I will hold that intention with you if you permit me to hold you accountable to be the woman you would need to be in order to fulfill it.
Her wake-up call turned my focus from running out to find love to going within to discover the barriers I had against it. Thus I began what became the Calling in "The One" process.
How does it differ from other approaches to finding love?
Many approaches focus on the external reasons love is elusive, such as all the good men are taken, men don't like powerful women or just not having met the right person. This approach focuses more on the internal reasons—going within to discover and release one's own conscious and unconscious barriers. For most of us, a gap exists between how much we think we want love and how much we are actually open and ready to receive it. Until we bridge that gap, we will covertly keep love at bay, and won't even realize we are doing it.
What are the most common hidden barriers to love?
One hidden barrier is resentment. We only resent people to the extent that we've given our power away to them. Uncover your role in what happened. Even if it was 97 percent their fault and 3 percent yours, zero in on that 3 percent, because you'll only be able to trust yourself to love again once you've taken that responsibility. If you still feel resentful, you have not yet evolved beyond the person you were before.
Another centers on old agreements—the spoken and unspoken, agreements we make, usually in an emotional time—such as "I'm never going to let myself get hurt again" or "I'll never love anyone the way I love you." Such agreements live in our lives as intentions. They may no longer be conscious, yet still set our course.
Another has to do with toxic relational dynamics. To find the best partnership, you need to be your best self. Maintaining a toxic dynamic drains personal power, making it hard to move forward in life. It's vital to evolve out of this debilitating dynamic so you are in the center of your power everywhere in life.
The fourth area, and probably the most important, revolves around the core beliefs you hold about both yourself and others. You might have a reasonably clear sense of yourself around money, career and friendship, but your core love identity might cause you to believe yourself unworthy of a quality partner. Identifying and challenging these beliefs is critical in learning how to break free from them, helping to raise your value in your own eyes and thus in others.
You believe the best way to find a needle in a haystack is to become magnetic and allow that needle to find you. How does one become magnetic to love?
Being centered in the truth of your own value and the real possibilities you hold for true love is wildly attractive. Love yearns to embrace us, but can't come to us if it can't come through us. When we shift into this place of possibility, we can become profoundly magnetic to love.
Learn more at CallingInTheOne.net, ConsciousUncoupling.com or KatherineWoodwardThomas.com.
This article appears in the February 2014 issue of Natural Awakenings

Wild Valentines
Many Animals Mate for Life
Humans like to think of themselves as unique when it comes to taking vows of togetherness. But a surprising number of other species in the animal kingdom provide sterling examples of fidelity, monogamy and lifelong pairing.
Gibbons, of the ape family, are the nearest relatives to humans that mate for life. They form extremely strong pairings and both sexes are on relatively equal footing in their relationships.
Bald eagles, our national emblem, typically mate for life, except in the event of a partner's inability to procreate.
Wolves, often portrayed as tricksters in folklore, conduct a family life more loyal than many human relationships. Wolf packs typically comprise a male, a female and their offspring, making them akin to a human nuclear family.
Swans form monogamous pair bonds that last for many years or even for life. Their loyalty is so storied that the image of two swans swimming with their necks entwined in the shape of a heart has become a universal symbol of true love.
French angelfish are seldom found far from their mate, because they live, travel and even hunt in pairs. The fish form monogamous relationships that often last as long as both individuals are alive. In fact, they act as a team to vigorously defend their territory against neighboring pairs.
Other examples include albatrosses, African antelopes, black vultures, Malagasy giant rats, prairie voles, sandhill cranes, termites and, of course, turtle doves.
To view images, visit Tinyurl.com/AnimalMatePics and Tinyurl.com/AnimalMatesSlideshow.
This article appears in the February 2014 issue of Natural Awakenings